---
Ireland and England
October & November 2011
---
LAUNCHED: 28 November 2011. LAST UPDATED: 30 November 2011

Accessed at least
times since 30 November 2011.
---

Wednesday 26 October 2011. I leave Jaffrey after breakfast and drive to the bus station west of Nashua and catch the 12:01 bus to Logan Airport. (Boston Express is a great deal: you can leave your car there indefinitely for free and the fare to Boston is less than $10. Free coffee and WI-FI!) I'm the first one to check in at the Aer Lingus counter when it opens at 2pm. Now with plenty of time I enjoy a leisurely lunch at Legal Sea Foods. Uneventful flight and actually have room to lie down a bit. Thursday 27 October 2011. Arrive a little past 5am in the brand new terminal at Dublin Airport. Joe O'Farrell is there to meet me—can you believe it? (And this will be the first of his three trips to the airport in less than two days!) We drive to Enniskerry, a lovely village in Co. Wicklow south of Dublin, and to Joe and Barbara's house, whereupon Joe goes to work on an impressive Irish Fry Up.



Barbara and Joe O'Farrell at their house in Enniskerry.


I then have a good four-hour nap while Joe ducks into the office. Later we drive into Dublin to have a look around and do an errand or two and stop for a pint at the Stag's Head, now my favorite Dublin pub.


Karolina. She's reason enough to stop at the Stag's Head.


That night Joe, Barbara, Kate (Barbara's niece) and I set off for Johnnie Fox's Pub, a new one on me. Well known for its "collection of stuff" covering most every inch of the place. Enjoy a very nice fish pie.


We have dinner in this quirky pub near Enniskerry.


Friday 28 October 2011. Joe sets off with Kate for the airport and after breakfast Barbara and I embark on a scenic tour of the district, starting with Bray where we walk along the seaside Promenade.



The Promenade at Bray.


Then to nearby Dun Laoghaire and Sandy Cove where Joyce's Martello Tower stands and where brave people swim all year round. We have a beautiful bright day so swimming doesn't seem so outrageous.



Watching the swimmers at Sandy Cove.

The Forty Foot. Joyce mentions it in Ulysses. It used to be just men and clothes weren't to be seen.
Co-ed and clothed now, but the water's still cold.

The Martello Tower. Joyce lived here for awhile and it's the setting for the opening scene in Ulysses.


Back to Enniskerry and not long after Joe returns from his first round trip to Athy. We head off to the airport and pick up Brad Borkan and then make the hour or so drive to Athy—Joe's second time today. We arrive mid-afternoon and check into the Carlton Abbey Hotel, once a convent, and a short walk from the Heritage Centre and O'Briens, the official and unofficial venues of the Shackleton Autumn School which will be our focus over the next few days.



My hotel is only a few steps away from the Heritage Centre.

Re-enactors set up in front of the Heritage Centre.

O'Briens, certainly my favorite pub in Ireland. Behind the bar: Frank O'Brien and his daughter, Judith.


Near the end of the day some of the usual crowd repair to the Chinese restaurant, now re-opened as Chen's. This is then followed by a visit to O'Briens and then at 7 pm we're at the Heritage Centre for the opening reception of the Autumn School. The Norwegian ambassador says a few words, a book or two are launched and wine and food consumed. And the evening ends at about 1 am at O'Briens, of course.


The Mayor opens the 11th Shackleton Autumn School.

The ones that make the Autumn School work: Seamus and Frank Taaffe.

Seamus introducing Rorke Bryan who is about to launch his new book.

Geraldine McAdam and the lucky Joe O'Farrell at O'Briens.


Saturday 29 October 2011. A full Irish breakfast at the hotel is followed by a full Antarctic day at the Heritage Centre. Excellent talks overall.
That evening, the customary drinks party at the Taaffe's are as pleasant as ever. We all have an envious look at Seamus' polar books overflowing the premises. The banquet is at the Carlton Abbey. Good food and good music. Clocks back one hour.

My table at the Saturday night banquet: Geraldine McAdam, Janice Tipping, ?, Kevin Kenny, Emma Jane McAdam, Jim McAdam.

I couldn't stop being fascinated by Bob Burton's magnetized reading glasses.

Sunday 30 October 2011. Another day of very good talks. When it's all over, Jonathan Shackleton and I drive off, as has been the routine for several years now, to his brother and sister-in-law's house, Fruitlawn, outside Abbeyleix. We enjoy a very nice dinner party that evening, the neighbors coming over.

Dinner at Fruitlawn with Arthur and Carol, the two Marys and their friend Bridgette.


Monday 31 October 2011. A rainy morning. After breakfast Jonathan and I leave for his farm in Mullagh via Athlone to check the progress on repairs to his antique boat, the Seagull.

Jonathan checking progress on the Seagull, perhaps the oldest wooden powerboat in Ireland.


That finished we stop at nearby Grogans for seafood stew, bread and wine.


Lunch on the way to Lakeview House.



Well fortified, we continue on to Lakeview House, where I soon settle in.


Lakeview House.

The panoramic view from the front door of Lakeview House.

With my friend Tinker.

Jonathan feeding his new pigs.


Tuesday 1 November 2011. A lovely day. I spend most of it relaxing, doing e-mail, organizing photos. See Brendan Clarke briefly; he made the drop bolts for the gates in Centennial Park in Jaffrey. That evening we go out to dinner in Virginia at The Riverfront. Afterwards, we seek out some of the giant pumpkins from the Virginia Pumpkin Festival.


Dinner out in Virginia.

Jane and Daphne admiring a really big pumpkin.


Wednesday 2 November 2011. Jonathan's brother, Charlie, arrives from the US with two friends—Ned and Lou—from Vermont and New Hampshire, here for a week to tour around. Later that morning to Ardmulchan Castle to watch the Meath Foxhounds hunt. Very colorful. Saw no fox.


Watching the hunt.

The one in the foreground looks like an odd man out.


That night we have a very nice dinner party at Lakeview House. Thursday 3 November 2011. Jonathan runs me into Kells where I catch the bus to the airport and take an Aer Lingus flight to Heathrow, then the tube to Waterloo and check into the Union Jack Club. Have a beer and a sandwich in the bar and then to bed.


The Union Jack Club and the view from my room.
The white-fronted building is the Old Vic where I went to see "The Playboy of the Western World."


Friday 4 November 2011. After breakfast into the west end and a stop at the bank and at 11 am I meet Johnny Van Haeften, the grand nephew of Sir Philip Brocklehurst who was on Shackleton's Nimrod expedition. Johnny has his great uncle's Aurora Australis, copies of which I have been tracking down around the world (first book written, illustrated, printed, bound and issued in the Antarctic). He has kindly brought his copy into his art gallery (old masters) and I spend a half hour or so checking out various points and photographing the stencilling. To the Red Lion down the street for a beer, then I drop into a couple of booksellers (Sotherans and Maggs). Take a bus to Buckingham Palace Road and meet up with Jonathan at the Queen's Gallery. We go in and view the current Antarctic show, The Heart of the Great Alone: Scott, Shackleton & Antarctic Photography.
Walk to Victoria Station, connecting with Brad Borkan, and take the train to West Dulwich and walk to Dulwich College for the James Caird Society AGM, lecture and dinner. Largest attendance ever.


The James Caird Society dinner at Dulwich College.


Saturday 5 November 2011. Take a bus to near the Victoria & Albert Museum where I spend time at the National Art Library. Order up some auction catalogues and while waiting walk over to Evelyn Gardens to take a photo of a house with Antarctic connections, then the same in Oakley Street and in Royal Hospital Road. Stop for a pint and a very good burger along the way at The Crown in Dovehouse Street. Back to the V&A and retrieve the catalogues I had ordered. An hour or so later, head back to the Union Jack Club. That evening I go down the road to the Old Vic to see Synge's "Playboy of the Western World." Couldn't make it through to the end so back to my room and a good night's sleep.
Sunday 6 November 2011. Off by tube to Kensal Green to try to find the grave of Sir Clements Markham in the famous cemetery there. After an hour of so of searching I find it. Not very grand, actually.

Sir Clements' headstone.


I walk around this large cemetery for awhile, noticing some very large and impressive monuments…and some not so impressive!


Yikes!!—some gravesites at Kensal Green Cemetery.


I then take the tube to the Willesden Green and spent some time in the environs trying to find a house Frank Worsley had once lived in. Walm Lane has a crazy numbering system but I eventually find it.


81 Walm Lane where Frank Worsley lived for a time.


I then take a bus from Hampstead back into central London and then the tube to the UJC. Do some laundry. For dinner, go up the road to Caprini which has now become one of my London favorites. Watch "Downton Abbey" in my room afterwards. Monday 7 November 2011. To Winchester by train from Waterloo. Walk the few yards to the Hampshire Record Office where I spend the day going through the papers of George Marston who, among other things, did the illustrations that appeared in the Aurora Australis.


The Hampshire Record Office in Winchester.


At the end of the day I meet up with Martin Henderson and we soon are at The Mill House in Bishop's Sutton, just east of Alresford. Catch up with this old friend and enjoy a drink or two and a nice chicken dinner. (Margaret is in Kenya so it's just us two trying to stay out of trouble.)


The Mill House.

Tuesday 8 November 2011. Into Winchester: Martin has a meeting and I have to deal yet again with Vodafone. We meet afterwards at the Cathedral's coffee shop. On the way back to The Mill House we pay a visit to the recycling center, and later in the day to Selborne where we drop into the Oates Museum which is in The Wakes, Gilbert White's house. Things are in some disarray in preparation for a new exhibit but there's enough there to draw my interest. Afterwards, we walk across the road to the pub and have tea.
That evening ir's into Alresford for dinner at The Bell. Enjoy my lamb shank.


A pub dinner at The Bell in New Alresford with Martin Henderson.


Wednesday 9 November 2011. Martin drops me off in Winchester and I am soon on the train to London. I find my way to the Westminster City Hall and meet with Toby Cuthbertson who overseas the Green Plaque Scheme. (This was to discuss the process of getting a Green Plaque on Sir Clements Markham's house in Eccelston Square.) From there to Kings Cross to get the train to Cambridge. Take a cab to Warkworth House Hotel, my address for the next few days.


Warkworth House Hotel.


Walk over to Scott Polar Research Institute and do a little work in the library.

Scott Polar Research Institute.


Thai food that night. Thursday 10 November 2011. Spend all morning at SPRI, then walk a mile or two to Wolfson College to see some Antarctic-related things mentioned to me by Peter Fuchs. First, there is a weathervane featuring a dogteam; second, there is a penguin topiary; and thirdly, there is a gravemarker of "Darkie" a sled dog brought back by Peter's father—Sir Vivian Fuchs—from the Antarctic. (Wolfson College was built on the grounds of the house Fuchs lived in. The house is still there, known as Fuchs House, naturally.)


The weathervane (photo by Peter Fuchs), the topiary, the grave and Fuchs House.


Back to SPRI and at the tea break converse up with Larry Conrad and Bryan Lintott; also the Antarctic bibliographer, Hilary Shibata and Lucy Martin who oversees the Picture Library.
That night have a very nice fish pie at Loch Fyne. Friday 11 November 2011. Armistice Day. Meet in the morning with Naomi Boneham, the archivist at SPRI, to discuss a publishing possibility. Have lunch at The Alma a block or two away. Quite nice fish and chips.

The Alma.

That afternoon I find myself back in the archives and inspect two copies of the Aurora Australis that have recently been lent to SPRI. The first one is made up of all blank pages so probably is a mock-up or dummy to test out the binding process. The second copy is complete and even more so. It has tucked in at the end the illustration "The Giant Tick was investigating the carcase," the illusive illustration that up until now has never been recorded as actually existing. But there it is! So it is an exciting afternoon, for me at least. Saturday 12 November 2011. I take a bus to Bedford only because there are at least two sites of Antarctic interest there: First, the birthplace of Apsley Cherry-Garrard; and second, a house once lived in by Aeneas Macintosh.
I find both of them and have some useful conversations along the way. I find Cherry's birthplace particularly interesting. Apparently some years back this grouping of brick Victorian houses was cobbled together to form residence halls for students at a local university. They've all been re-done—very sympathetically—and are now once again single family houses, nicely restored. Preservation triumphs in Bedford!! Not much else does, though, as it seems a bit of a grim town. Although, once I had left I get news of an antiquarian book shop and a 'real-ale' pub that I wished I had known about earlier.

Cherry-Garrard's birthplace at 15 Lansdowne Road.
And a house at 29 Clarendon Street lived in by Aeneas Macintosh.


A not very memorable lunch at a local pub and then back to Cambridge on the bus. Have a quick look at the Vermeer show at the Fitzwilliam Museum (a big crowd), and at 6:15 I go to Emmanuel College to take in the AGM of The Friends of SPRI. Following that is a nice though scantily attended dinner in the Old Library. Judy Skelton, Dafila Scott, Trevor Cornford, Charles Swithinbank and a few other friends are there.

The Friends of SPRI's dinner in the Old Library at Emmanuel College.


Sunday 13 November 2011. A lovely day for a change. I check out of the hotel and am picked up by Mary Cavanagh, long-time African traveller friend from Bishop's Stortford. We're off to Gestingthorpe, a town with Antarctic connections and more or less midway between Cambridge and Saxmundham, where Antarcticans Jill and Antony Bowring live. We have decided to meet for Sunday lunch and catch up on things. Our choice for a venue is The Pheasant which is a very nice choice.

Sunday lunch at The Pheasant in Gestingthorpe: Jill and Antony Bowring and Mary Cavanagh.


After lunch we go into the village and visit the church where there's a plaque to Captain Oates. His mother—who lived just across the way in the big house—polished the plaque once a week for years. It's still shining.

Jill has a look at the plaque in St Mary the Virgin Church in Gestingthorpe.


Mary and I then set our sights on Sycamore Lodge in Bishop's Stortford. She's been tweaking her house for ages. It's spotless and needs no 'refurbishing,' but whenever I visit there always seems to be a new project just completed. This time, among other things, some new very smart doors out to the garden.
We open the gin, or I do at least, and settle in. Mary's friend Barbara drops by and later we make a few SIAFU calls here and there. Soon, time for bed. Monday 14 November 2011. Up early and Mary drives me to the station and I'm soon on my way back to London. Take the tube from Liverpool Street to Monument and duck out to take a photo of 9 Eastcheap, where the printers Causton & Son had their office. (They were the ones who supplied the press, type, paper, etc., to Shackleton for the production of the Aurora Australis.)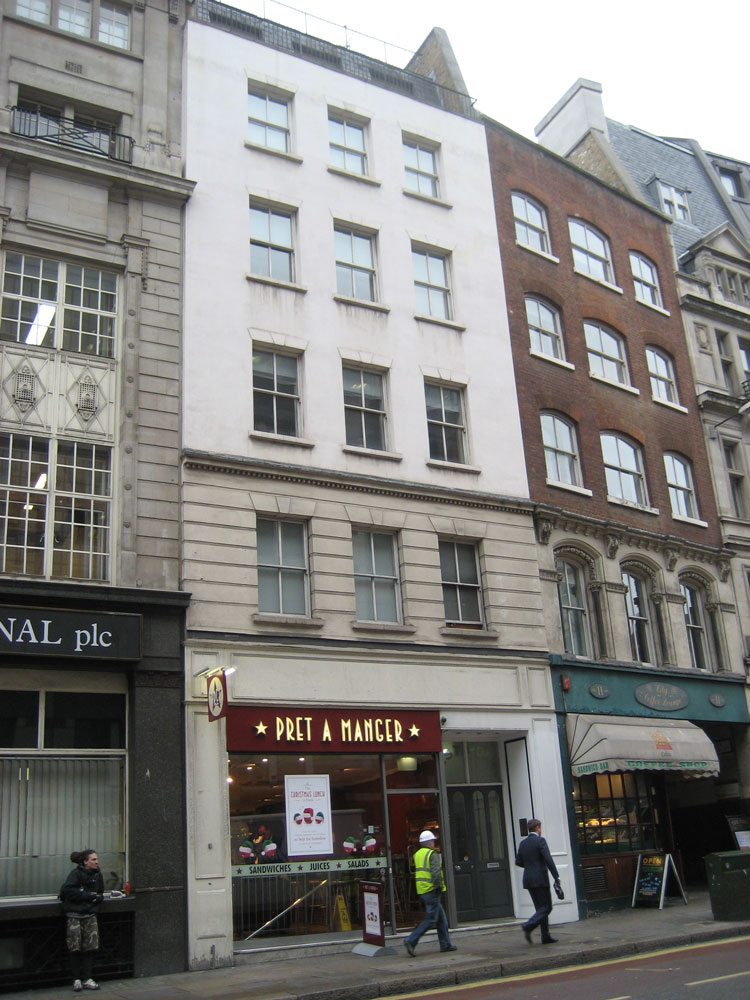 9 Eastcheap: once the headquarters of Causton & Sons.


Back on the tube to Waterloo and check back into the UJC. Re-organize and grab a 139 bus to Baker Street and pay a visit to the Atlas Gallery to see the "Lost Photographs of Captain Scott." Have a few words with Ben Burdett, the proprietor, who used to deal in books but is now into photography. (I bought my set of the National Antarctic Expedition ("Discovery") reports from him years ago.)
Have a pint and a pie at the Barley Mow, a pub across the way, and then off to Eccleston Square where I meet up with Tom Sutherland, who lives in the Square. Enjoy a cup of tea with him and bring him up to date on the effort—now—to get a Green Plaque for Sir Clements Markham's house at Number 21. We go over to the garden and meet Neville, the New Zealand gardener who keeps everything looking well. Soon, Roger Phillips makes an appearance. He is quite the expert on all botanical matters. Tom, Roger and I trudge up the stairs of Number 12 and discuss the Green Plaque matter in Roger's flat. I think the Eccleston Square community will be on board for this new initiative: From Blue to Green Plaque!
I little later I make my way to Paddington and hook up with booksellers John Bonham and Stuart Leggatt and after a glass of wine in John's flat we walk a block or two to Flavours of India in Gloucester Terrace, where we have a bang-up Indian meal.
Stuart and I bid farewell to John and take the tube home, myself to Waterloo.

An Indian meal with booksellers John Bonham and Stuart Leggatt.



Tuesday 15 November 2011. Up early and after my last hi-cholesterol breakfast for awhile, I check out of the UJC and take the tube to Victoria and the Gatwick Express to Gatwick Airport, arriving in plenty of time for my Aer Lingus flight, first to Dublin and then later to Boston. Arrive ahead of schedule and within minutes am on the Boston Express bus back to Nashua. My car is waiting for me, safe and sound, and before too long I'm back in Jaffrey and looking forward to bed.


---
For those who might wish to see some photos and commentary from past Shackleton Autumn Schools gatherings in Athy, go to http://www.antarctic-circle.org/athy.htm
---